12 Mar, 2017
Buying Guide | Commercial Dishwasher
Commercial Dishwasher will be working harder than any other piece of equipment in every commercial kitchen and restaurants. Restaurant Dishwashers will cut operating costs in half and speed up the turn around time for making dishes, utensils, and prep supplies clean ready to use, so whether you happen to be a small or large operation, it is imperative you operate with a dishwasher that is going to meet all of your needs. So how do you choose the right one?
There are two main types of Commercial Dishwashers: High Temperature Dishwasher & Low Temperature Dishwasher – It is essential to know the difference between them as both are different in their own way.
High Tmp Vs Low Temp Dishwashers
High Temperature Dishwashers
Use water that is heated specifically to 180 Degrees to sanitize each load. With that being said, the high temp unit does not require chemicals which will allow you to save money on your regular chemical refills and makes this unit environmentally-friendly.
Low Temperature Dishwashers
Work at a low temperature and use sanitizing solutions in order to properly sanitize each load. Because Low Temp Dishwashers require minimal water heat, they become more energy efficient. The sanitation chemicals that a low temp uses have been known to damage flatware, plastic items, and plates and have a track record for leaving glasses spotty. If you happen to be cooking with a lot of grease, we recommend a high temperature dishwasher!
Now that you have chosen between a high temperature dishwasher or a low temperature dishwasher, it is time to decide on the size. First, it is important to know the size of your commercial kitchen, and to acknowledge the number of wares you will be going through per hour.
Types of Dishwashers
Conveyor Dishwashers
Conveyor Dishwashers are the BIG dishwashers for commercial kitchens with a high volume and are most commonly used in large cafeterias such as Hospitals and Schools. With ease of use, you will load your rack on one side of this large machine, and it will automatically work its way to the other side of the dishwasher during the complete cleaning process. This saves a busy kitchen loads of time to focus on more important things – Serving your customers!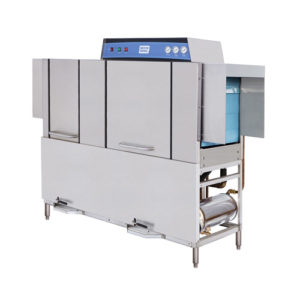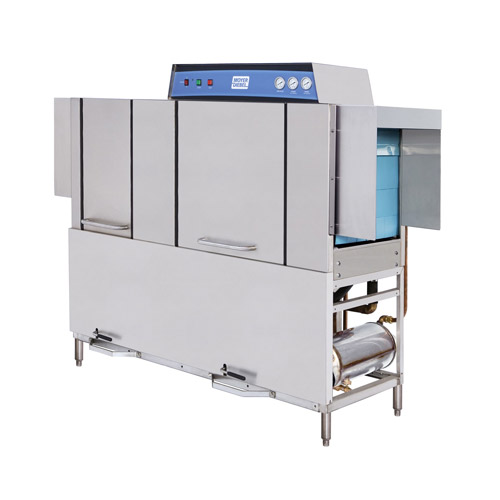 Door Type Dishwashers / Pass Though Dishwashers
Door Type Dishwashers or Pass Though Dishwashers provide you access to its interior by using large handles in which the door is equipped with. Like the Undercounter Dishwasher, you can find both options in Low Temperature and High Temperature. Handling up to 150 racks per hour, this machine is most common in the food industry and large restaurants!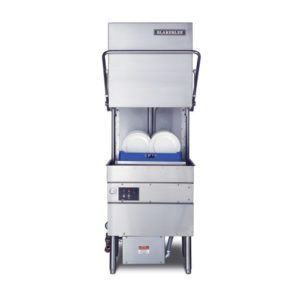 Glasswashers
Glasswashers are perfect for bars and other areas that have high volume of glassware that require fast turnaround, glasswasher machines can be stored undercounter and require chemical sanitizing. Each glasswasher has a unique design with greater interior clearance than a traditional dishwasher has, and they can accommodate specialty glassware such as wine and martini glasses.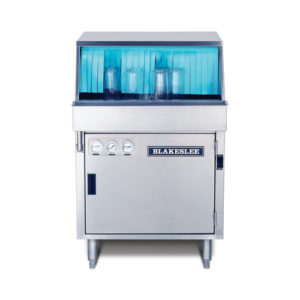 Undercoubter Dishwashers
Undercounter Dishwashers are the most popular of dishwashers as they can easily slide under the majority of countertops. Supplied in both Low Temperature and High Temperature, these dishwashers are by far the most popular. Although the undercounter dishwashers have a smaller capacity per hour, being the size of a typical household dishwasher, they are perfect for smaller kitchens and operations that do not have a lot of space.
 
Dishwasher Boosters
Booster Heaters pre-heat water to 180 Fahrenheit for proper sanitization and to ensure your dishwasher thoroughly cleans the dishes during wash cycles. Booster heaters are typically used on large Conveyor or Flight dishwashers that process large volumes of dishes per hour.  Most undercounter and door type units have a built-in booster heater.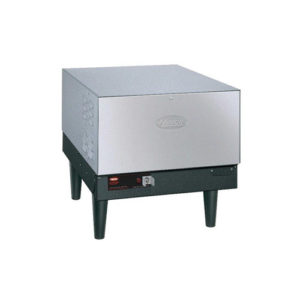 Commercial Dishwasher Accessories
Clean Dish Table
Clean dish tables provide the perfect space to place dirty dishes before running them through your commercial dishwasher or to store clean dishes before they are put away. Connect a dish table to your conveyor, single, or double rack dishwasher, or connect one to your pot sink, so you can wash dishes more efficiently.
Soil Dish Tables
Soil dish tables provide the perfect space to place dirty dishes before running them through your commercial dishwasher or to store clean dishes before they are put away. Connect a dish table to your conveyor, single, or double rack dishwasher, or connect one to your pot sink, so you can wash dishes more efficiently.
Dishwasher Chemicals
All commercial dishwashers require Chemicals to clean the dishes properly.  However, in low temp machines, it's vital to use proper cleaning with every use. These chemicals enable your commercial dishwasher to sanitize and clean dishes at temperatures that won't naturally sanitize your dishes.
Common Commercial Dishwasher
30 racks / 120 covers per hour.
Economical to operate. Uses only 1.7 gallons of water per cycle.
All stainless steel construction assures long life and years of trouble free operation.
16″ door opening on the (L-1X16) allows the washing of larger items. (L-1X) door opening 12-1/8″.
Unique spray arm system features upper and lower stainless steel wash arms with reinforced end caps.
Built-in chemical pumps and deliming system assures proper chemical usage.
Convenient to service "work-in-a-drawer". All electrical components are attached to a sliding drawer for easy access and service.
Pumped drain allows for flexible installation. Requires no floor drain.
Pump purging system improves results by eliminating soil and chemical carryover during rinse cycle.
Stainless steel pump impeller. Offers extended life and service.
Built-in strainer in water inlet system to prevent water valve from clogging.
Two dishracks included.
Built-in primer switches.
Built-in instant start.
Door safety switch makes operation safe.
Stainless steel legs 4″ (set of 4 for Model L1X).

Raises incoming water 140

o

F – 180

o

F hot water sanitizing.
Variable time cycles (25~210 seconds).
Maximum rack capacity of 40 racks per hour.
Automatic water fill, automatic start/stop.
3 factory preset options (40/36/30 racks per hour, 90/100/120 seconds per cycle): 70 seconds powerful wash, 10 seconds dwell time, 10 second hot water rinse.
Stainless steel non-clogging wash and rinse impeller.
304L stainless steel for corrosion resistance.
Easily removable, large capacity, one-piece strainer.
Solid state, integrated LED display controls with status indicators.
Low-noise and large output 1 Hp washing pump.
Unique design rotating high pressure rinse impellers, both upper and lower, rinse nozzles are easily removable and interchangeable for cleaning and inspection.
Factory installed vacuum breaker.
Door actuated start.
Service diagnostics.

Stainless steel construction – AISI 304 18/10: 208 – 240 volts, single phase.
Double skin with acoustic & thermal insulation – Less water consumption and energy efficient.
Wash tank slanted with rounded edges – Seamless interior prevents leakage.
Rotating stainless steel upper & lower wash rinse arms – Longer lasting and easier to clean.
Digital read out – For easy read, with 2,3,4 and 15 minute cycle.
Automatic loading tank – Tank fills up as soon as the machine is turned on.
Integral tank filter kit – Prevents food particles getting into the machine.
Rinse aid dispenser and detergent pump – Dispenses detergent and rinse aid efficiently.
Door opening safety device – Machine shuts off automatically.
Thermo control – Guarantees selected temperature for every rinse cycle and when machine is not in use.
Security thermostat – Automatic booster shut off.
Extractable control panel – For easy maintenance.
Soft start – Prevents over pressure water spillage and easy on glassware and china.
Under Counter dishwasher – F92EKDPS with booster, rinse, drain & soap pumps.
Included accessories – (2) baskets, (1) general basket, (2) cutlery containers.

Precise, dual, digital, temperature display for wash and rinse.
2 kW tank heater for accurate wash water temperature control
Standard top and side panels.
Fill and drain type operating principle means "fresh water wash"— rinse water is always re-used as next cycle's wash water.
40 Amp breaker only for 40° rise in 208/60/1.
50 Amp breaker only for 70° rise in 208/60/1.
Soft start provides gradual and quiet pump activation and helps prevent dish and glass breakage.
All stainless steel frame.
Upper and lower interchangeable spray arms.
Liquid detergent and rinse-aid dispensing pumps complete with prime switches.
Flexible fill and drain lines, flow regulator/line strainer and standard pumped drain for total ease of installation.
Quick 141 second cycle time. 25 racks per hour capacity.
Rinse sentry feature. Ensures proper 180° F final rinse temperature.
Complete with two 20″ x 20″ [ 508mm x 508mm] racks.

31 racks per hour rate – SU-H.
33 racks per hour rate – SU-L.
0.78 gallons of water per rack.
Hot water or chemical sanitizing units available.
Low chemical alert indicators.
Booster heater capable of 70° rise, provided on SU-H models.
Rinse Assurance ensures 180° final rinse.
Self-priming chemical pumps.
Error notification.
Digital cycle/temperature display.
Interchangeable upper and lower wash and rinse arms.
Pumped drain.
Pumped rinse.
17″ door opening.
Automatic tank fill.
Chemical pumps standard.