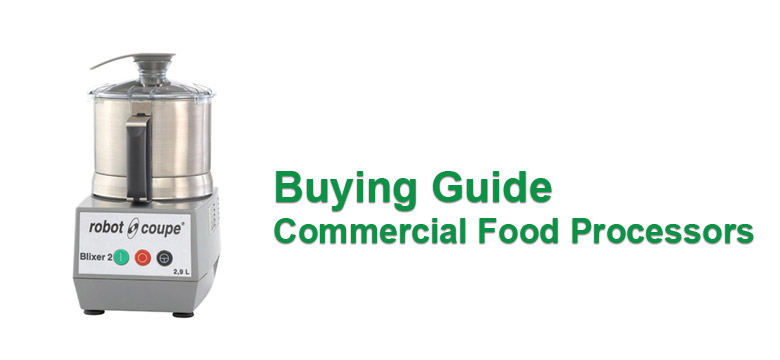 02 Dec, 2017
Buying Guide | Commercial Food Processor
Using Commercial Food Processor has become an irreversible trend crossing the food supply industry. In the past decade, food processors are constantly improved to be more versatile and powerful. A food processor has a central motor, usually self-contained, that drives a shaft to which a blade or other cutting implement. A food processor is able to save countless hours while providing consistent quality. Used by bakers, Prep Cooks, Chefs and more.
Food processor is classified into 3 main types, bowl-type, continuous feed food processor and combination. In fact, a food processor can tackle a variety of tasks, but each type has strength on a specific job. The key factor in selecting a perfect item is considering its primary use.
Batch Bowl
Batch bowl food processor is the most common type of food processor and found both in residential and commercial kitchens. This unit comes with a variety of attachments allow to slice, dice, shred, chop as the product is push through the top feed tube. Since food is processing and dispense in the same bowl, a batch bowl is an ideal unit for the place has low capacity demand.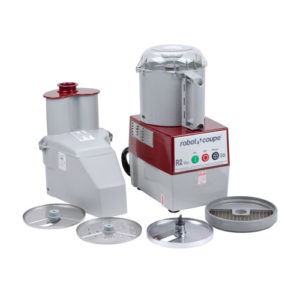 Continuous Feed
Continuous feed food processor dispenses food into a separate bowl instead of the bowl processing. Therefore, this unit is good to handle slicing, dicing and shredding in bulk volume. If your business needs prepare pounds of item each day (such as salsa). This item is perfect. However, continuous feed type may not be versatile as batch bowl unit considering this item cannot puree, knead a dough.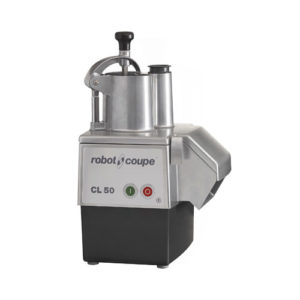 Combination
Combination food processor, just as its name, is featured both a bowling unit and external dispenser that allow users switch between two depending on the task. Combination unit could satisfy people who want the best in both production and versatile.
Power
The rated of horsepower is a very important aspect customer should pay attention to. The equipment with higher horsepower has motor capable of powering through more food and thinker mixes. Besides, another important factor is RPM that measure how many times the blade rotates around the shaft per minute. Higher RPM means quicker processing.
Food Processor Attachment
Discs
Slicing Disc
Slicing disc gives a quick way to cut the product into equally sliced portions.
Julienne Disc
Julienne disc boosts the presentation of products with amazing speed. This attachment helps to create fine, matchstick-style cuts in literally seconds. Good for vegetable plate, salads and more.
Grating Disc
A grating disc is able to grate cheese and vegetable and thought finely and quickly. If you need a pound of grated product per day. This is the item for you.
Shredding Disc
This accessory quickly cuts your vegetables into long, thin strands. Some shredding discs are even reversible, featuring a medium or fine shred on either side. Ideal for baked zucchini bread, latkes, and so much more.
Dicing Disc
Dicing disc is able to cut the large chunk of vegetable for stew, salad, soup and so on. It does not only save your time but also spare the knives from the additional tear. Dicing disc comes with a dicing kit, therefore you have to check whether the food processor has this dicing function.
French Fries Disc
Obviously, this disc allows restaurant give fresh, home-made French fries with quick hand free processing.
Pulp Disc
Cut the ingredient into zest pulp for extra flavor. Good helper of making compote, preserves, coulis and more.
Waffle Cut Disc
Presenting a wonderful waffle looking for any type of ingredient.
Brunoise Disc
Some manufacturers create a specific Brunoise disc in addition to the existing dicing discs. Brunoise refers to a very specific dice that produces a 1/8-inch. It is good for add flavor to the soup, stew and so on.
Whipping Disc
With a whipping disc, the food processor is able to take duty from additional immersion blender to produce fresh cream and butter with a smooth texture.
Bowl
The food processor comes with a variety of bowl size that has an influence on final presenting. A too small bowl will become cumbersome for churning out large batches of product.
Pusher
A cylindrical tube helps you safely push product through the feed tube.
Common Commercial Food Processor
Motor Base: Direct drive induction motor (no belt) for intensive use.
Power 2 HP.
Stainless steel motor shaft.
Built in on / off / pulse buttons.
Speed: 1725 rpm.
Pulse button for better cut precision.
Cutter Function: 3 qt. cutter bowl in composite material with handle, and high resistance smooth blade assembly.
Vegetable function: Vegetable preparation attachment equipped with 2 hoppers.
1 large hopper (surface : 12 square inches) and 1 cylindrical hopper (Ø : 2 1/4''). Removable bowl and lid.
Removable chute and feed lead for dishwasher safe and easy cleaning.
Vertical pusher presses on vegetables for uniform cuts.
Large range of 26 stainless steel discs available as option.

Motor Base: Industrial induction motor for intensive use.
Power – 1.5 HP.
Motor base in high resistant composite material.
Stainless steel motor shaft.
Magnetic safety system with motor brake.
Speed – 425 rpm.
Vegetable Preparation Function: Vegetable Preparation Machine equipped with 2 hoppers.
1 kidney shaped hopper to cut bulky vegetables, like cabbage, beets, celeriac, etc. and 1 cylindrical hopper for long, delicate vegetables.
Removable continuous feed lead.
Reversible discharge plate for processing delicate produce.
Lateral ejection facility for space-saving and greater user comfort, and accommodates 5 29/32 inch high gastronome pans.
Lever-activated auto restart (by the pusher).
Vertical pusher pressure exerted on vegetables to ensure uniform cuts.
Large choice of 52 discs available.
Packed with two processing discs (28064 – 3mm/1/8" slicing disc & 28058 – 3mm/1/8" grating disc) as standard. Stainless steel blades on slicing discs, blades on Julienne discs and grating discs are removable.

Stainless steel construction and highest quality material, all suitable for contact with good.
New production technology that gives a uniform, highest-quality cutting result.
The large range of high quality discs and grids allows the operator to obtain over 70 different styles of product.
Lateral product ejection, which allows the appliance to be placed in a less deep working surface.
This directs the product avoiding splashing.
Electronic, user-friendly control board.
Easily removable lever and lid for cleaning purpose.
NSF-International certified appliance.