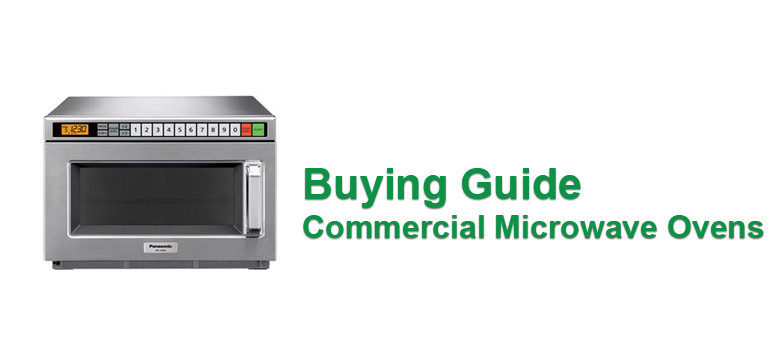 08 Apr, 2018
Buying Guide | Commercial Microwave Oven
Nowadays, Commercial Microwave is something, no modern home or restaurant can go without. Who even has the patience to turn on the stove and heat up the whole thing anymore when you can simply put a portion into a bowl and get it done with in only 30 seconds?
A typical commercial microwave was built to be fast, efficient in frequent use, and durable in the long run. It's the perfect appliance to have around in a society where time is money – especially if you have a lot to cook in very little time.
Types of Commercial Microwave Ovens:
The types of commercial microwaves ovens are generally determined by their watts and cooking power. The wattage is specifically designed for particular kinds of recipes or foods, and it generally falls into the following categories:
Light-Duty Commercial Microwave
Commercial microwave that have been labeled as "light duty" will offer you 1,000 watts. It's more powerful than your typical microwave, but it's the weakest when it comes to "commercial" appliances.
Such a microwave is great for businesses where you'll have to use the device around fifty times per day – and only to warm up things like drinks, pastries, or other small items that require heating or light microwaving.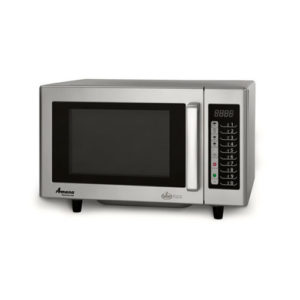 Medium-Duty Commercial Microwave
These Moderate Commercial Microwave Ovens come with a power between 1,200 and 2,000 watts, and they're perfect for warming up foods such as appetizers or sauces. They are more durable and much faster than your regular light-duty microwave, and it can safely be used to microwave foods up to 150 times per day.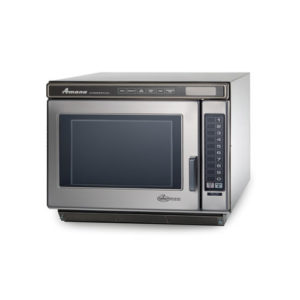 Heavy-Duty Commercial Microwave
If you have a business that needs you to heat food more than 150 times a day, you may want to go for a heavy duty commercial microwave. These can offer between 2,000 and 3,000 watts, and they can cook even faster than the average medium-duty microwave. Plus, they are even more durable, and they are perfect for restaurants that have fast turnovers.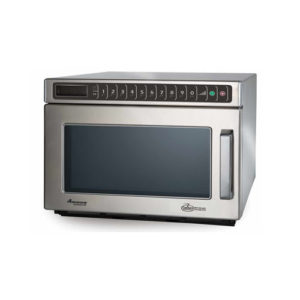 Factors to Consider with Commercial Microwave Ovens:
The cooking power is just one thing that you have to consider when buying commercial microwave ovens. There are several other things that you need to keep in mind when purchasing such appliances:
Size
Depending on the size of the food that you intend to cook, you have to make sure that your dishes will fit into the microwave. It needs to be large enough to make sure that that your steak won't be sticking out, but small enough so that it doesn't take up the entire counter and then some.
Since most commercial kitchens are already packed with various appliances, you have to be sure that the microwave is not more trouble than it's worth. Space is something that no busy business can really afford.
Use Frequency
When you are looking for commercial microwaves, you are looking for something that will withstand the test of time – and not something that will break down simply because you decided to use it two times more than its recommended frequency.
If you have a busy business, perhaps investing in a heavy-duty commercial microwave is the smarter choice – even if you have to spend a couple of extra bucks on it.
Cooking Time
Technically, the higher the wattage, the faster it will cook. If your business goes at a fast pace, you should start looking for commercial microwave ovens. On the other hand, if you work in an environment where speed is not an issue, a light-duty microwave may prove to be a sound choice for you.
Ease of Use
When you are buying a commercial microwave, you need to make sure that it won't be slowing you down in the kitchen. A device with many buttons that takes a lot of time to figure out is not going to help you if you have a fast-paced business.
Final Thoughts
There are many things that you need to consider when it comes to commercial microwaves, as you could see above. It's not as easy as picking the cheapest microwaves, the most expensive microwaves, or the smallest. If you want the food to be good – and the microwave oven to last – you'll have to consider various factors and make the smart choice.
Ultimately, it depends on the food or the pace of your business, you will have to choose an appropriate microwave oven.
Common Commercial Microwave
Power Output – 1200 watts of power.
11 power levels for consistent, delicious results for frozen, refrigerated and fresh foods – from the freezer to table in minutes.
Unique method of energy distribution provides superior even heating throughout the cavity.
Interlock switch assembly is engineered for maximum durability and long life.
Easy to Use – Up to 100 programmable menu items simplifies cooking and ensures consistent results.
Four stage cooking option with one-touch programming. Reduces prep time, labor and food waste while providing consistent results.
Controls are user friendly and require minimal training.
Multiple quantity pad calculates the proper cook times for multiple portions.
See-through tempered glass outer window and lighted interior for monitoring without opening the door.
Ample .6 cubic ft. (17 liter) foot capacity accommodates a standard half-sized pan.
Stackable to save valuable counter space.
Gasket sealed ceramic trey to reduce plate-to-shelf edge impact and keep spills contained.
Easy to Maintain – Braille touch pads are ADA compliant.
Stainless steel exterior and interior for easy cleaning and a professional look.
Constructed to withstand the foodservice environment.
Removable, cleanable air filter and clean filter reminder protects oven components.

Choice of 1200, 1700 or 2100 Watts of cooking power.
Compact size with heavy-duty performance.
Stainless steel construction.
Top and bottom energy feed.
Grab and go door handle.
Programmable memory pads.
Enhanced diagnostics.
Top and bottom energy feed.

TwinTouch dual control panel design makes it easy to reach the controls whether the microwave is placed on a high shelf or at countertop level.
Top and bottom microwave energy feed for unparalleled performance in cooking, heating, and defrosting. Motorized top and bottom stirrer antennas for even microwave distribution. Dual magnetrons designed for dependability and even heating.
Computerized control panels have 10 programmable memory pads that provide one second increment timing.
Stainless steel cabinet and cavity are an enduring investment in quality that stand up to high-volume demands. Heavy-duty grab handle offers easy access. Rubber-sealed ceramic shelf ensures ease of cleaning. Oven light and see-through door provide maximum visibility.
Manual and memory programming has 10 pre-programmed memory pads that easily convert up to 100 memories or can be programmed manually for special needs or times.
4-stage programming enables user to begin heating at one power level and finish at another.
Stacking option makes the most efficient use of space. Comes with a mounting plate for easily securing one oven on top of another.
Select power provides 11 variable power levels for precise control. It's great for hard-to-heat foods.
Memory check lets user confirm time setting and power level for each memory pad.
Double/Triple quantity pads automatically adjust to provide optimum heating times for two or three portions. No guesswork!
Express defrost divides total defrosting time into 3 stages (using 3 power levels) for quick results.
Program lock prevents stored information from being accidentally changed.
Counter check keeps tabs on oven usage, "remembering" how often each feature is used and the number of manual uses.
Lighted digital display shows programmed and elapsed heating times, plus percentage of microwave power, all with the highest level of accuracy.