29 Oct, 2017
Buying Guide | Commercial Meat Slicer
Commercial Meat Slicer is a perfect equipment to improve the kitchen efficient with a uniform quality. It could be used widely from coffee shop to steakhouse, and even the central kitchen. Besides allowing you to pile the meat and cheese, a Meat Slicer is suitable to consistently sliced vegetables to dress your pizzas. High demand steakhouses use slicers to produce uniformly chops.
Power
The grade of the machine is the first thing need to consider. Normally, the slicer is classified into three grades: low duty, middle duty, and high duty.
Light Duty
Light duty slicer works perfectly on deli meat with an economical price. But low price come with reasons, firstly, light-duty meat slicers are good for low volume production because they are not able to keep up with higher volume without burnout. Secondly, this type of slicers is not a suggestion for slicing cheese, meat and frozen items. If you are a café using package cheeses, light duty will be the one for you.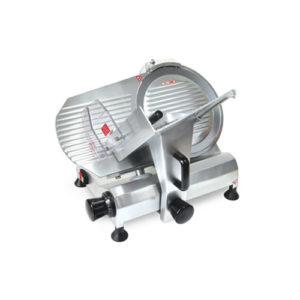 Medium Duty
The medium-duty items are good for slice meat, vegetable, and occasional cheeses. Even, it comes with more horsepower and larger blades. Medium duty slicers are not able to work on frozen food. It is a good solution for customers who are operating a low or medium volume deli oriented restaurant using only refrigerated items.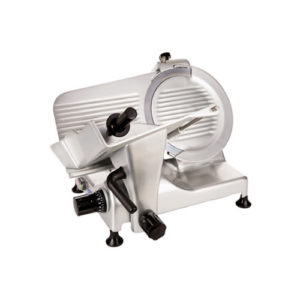 Heavy duty
Heavy duty slicer works on all categories and capable of slicing any amount of meats, cheese or frozen products over a long duration. Heavy duty slicers are able t run 4 hours per day without any pending problems.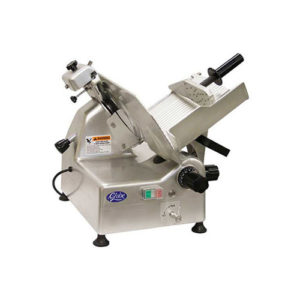 Blade Size
The size of the blade is one of the key factors determine the volume an type of food the equipment could handle.
9 Inches: blade for light duty. Good for slicing deli meat and vegetable with low volume. It generally comes with 1/5 or ¼ horsepower which allows slicing up to an hour per day.
10 Inches: a size with a medium duty come with 1/5 or ¼ horsepower is able to perform 1-2 hour per day. The power of this is still too weak to handle cheese and frozen meat.
12 Inches: this size is the most popular size, which is suit for many busy restaurants and deli store. 12 inches is the smallest size to handling cheese with limited working time.
13 Inches: this size of the blade is designed to handle all types of food with high output volume. Some of the slicer with 13 inches are able to cut frozen foods. Normally, they come with ½ horsepower or larger.
14 Inches: the slicer with 14 inches blade is perfect for stores have needs to cut frozen product throughout the day. Because of the strong power, 14 inches blade works much quicker and easier than others.
Material
Even people neglect the material of blade sometimes, this factor plays a role as important as power and size, it determines the durability and performs. Stainless steel is the most common material applied to the blade. Manufacturers often add additional metals into the mix to improve a blade's performance in one or more areas including its ability to resist corrosion in the presence of acidic food. Hollow-ground knives are sharpened to a concave point that yields the sharpest edge achievable enable the equipment to cut through dense products quickly and efficiently and with as little wear and tear on the motor as possible. The last type is a hard chromed blade, which is finished with a layer of chrome providing superior hardness to stainless steel.
Design
Transmission
The power of the motor is transferred either by belt or gear. Gear is more expensive because it is able to produce a high volume with reliability and endurability. Belt-driven cannot handle high demand and require frequent maintenance, but the price is much cheap and easy to replace.
Operation
As much other equipment, an operation of slicer classified as manual and automatic meat slicer. Manual Meat Slicer requires less upfront cost, however, the user has to handle the slicing process entirely. Automatic Meat Slicers are able to set to automatically perform the motion that pulls the product across the blade, in the long term, the labor cost will be cut off.
Other features
Safety
When sharp elements involved, the safety has the priority position for any business. To avoid the inherent risk, you should pay attention to what safety feature is provided by manufactures.
A knife guard covers the majority of blades to helps shield users' fingers from the blade and prevent damage. Many slicers are equipped with knife guard interlocks that prevent the equipment from powering on if the guard is not properly attached.
An easy grip is made of comfortable plastics and shaped in a way that provides the best grip; these handles prevent worker accidents by ensuring correct placement of hands during operation.
A gauge plate interlock is a mechanism, which requires the gauge plate to be set at zero before it will allow the carrier tray to be removed. This will help protect workers from the blade edge.
Sanitation
Sanitation prevents customer from illness and caused by the bacteria can grow quickly on poorly maintained equipment. As we discussed above, the slicer has inherent risk which requires more caution when user clean the item. Commercial slicers are complex machines, so thoroughly cleaning them requires that certain components are removed and washed by hand. Traditionally, many of those components could only be removed with tools. Nowadays, there's been a push in the modern design of commercial slicers to make as many components as possible removable without tools. These easy-to-remove components often include the slicer's meat grip, knife sharpener, and carriage.
Common Commercial Meat Slicer
Eurodib

Professional quality meat slicers, easy to clean and operate.
Blade sharpener.
Belt drive.
Perspex protector guard.
Waterproof and emergency shut off switch.
Robust handle Slice thickness: 0.2mm-15mm Maximum slicing width: 6.25″.
Anodized Aluminum material.
Amperage: 1.4 Amp, 

Volts: 

120 V, 

Watts: 

150 W
Anodized aluminum material.

Finish: Stain resistant, heavy gauge, anodized aluminum finish is easy to clean.
Motor: 1/2 HP, Powerful fan cooled motor and permanently lubricated ball bearings ensure quiet operation. Thermal overload protection included.
Knife: 12" Hard chromed, special alloy hollow ground knife lasts longer and sharpens easily.
Manual Reset Button: Motor overload protection allows the operator to reset the slicer manually.
Top Mounted Sharpener: All metal construction and top mounted for easy access. Two stone, dual action design allows quick return to a razor sharp edge. Removable for cleaning.
On/Off Controls: Separate On/Off push buttons are moisture protected and sanitation sealed.
Ball Bearing Chute Slide System: Ball bearing system ensures smooth and easy movement of the food chute assembly.
Knife Hub: Knife hub bearings, belt and motor are fully enclosed, protecting them from moisture.
Knife Cover Interlock: Slicer will not operate with the knife cover removed.
Knife Ring Guard: Permanently mounted knife ring guard protects the non-slicing portion of the knife. Slicer table protects leading edge of the knife when completely closed.
Table Rod: Separate table support rod is protected by the table casting and cover.
Bottom Enclosure: Components are safeguarded by a cover, protecting them from food and
other debris. No Volt Release Relay: Prevents inadvertent activation of the slicer in the event of power interruption.
Slice Deflector: Deflector is securely fastened to the slicer; simple to remove without tools and
easy to clean.
Rubber Feet: Supplied with nonslip rubber feet.

Medium duty, intermediate volume slicer.
12" Precision slicing German hollow ground blade.
Unique drip tray fence redirects liquids away from controls and operator towards distinctive concave base casting for easy cleaning.
Ergonomic comfort design operation.
Powerful 1/4 hp motor standard.
Adjustable slice thickness from 0 to 1/2".
Capable of slicing a small amounts cheese.
Easily removable sharpener for cleaning.
Quick and simple disassembly of carriage and feed grip for easy and thorough cleaning.
Sanitary polished and anodized aluminum construction.
Carriage easily detaches for ease of washing and sanitizing.
Permanantly mounted protective edge guard for operator safety.
Max duty 2 hours a day.

QuanTanium® coated non-stick plate with titanium blended into the coating creates a harder and more durable surface than conventionally reinforced systems.
Non-stick plate increases glide performance and reduces clean-up time.
Built-in sharpener.
25 degree gravity feed maximizes productivity by reducing operator fatigue and discomfort.
Safety hand guard mounted to carriage.
Safety cover under motor.
Hard coated anodized aluminum body.
Non-marking, non-skid rubber feet.
Belt driven. Durable, long-wearing belt provides reliable service.
Slice adjustment knob for precise and consistent slice thickness.
Removable carriage for easy cleaning.
6'4″ (1.9 m) cord with plug.