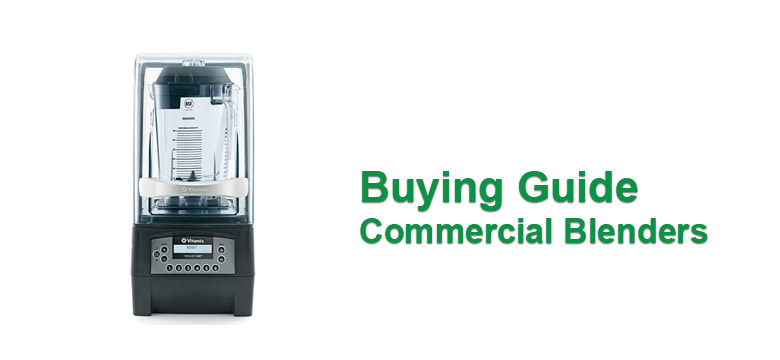 14 May, 2017
Buying Guide | Commercial Blender
With so many different options of Commercial Blenders, how do you know which one will be right for your business? Whether you happen to be a small or large operation, a restaurant or a pub, it is imperative you operate with a blender that is going to meet all of your needs. Right Commercial Blender will help you craft signature margaritas, daiquiris, smoothies, and iced coffee drinks. so how do you choose the right one?
There are three main types of commercial blenders: Bar Blenders, Food Blenders & Immersion Blenders – It is essential to know the difference between them as all three are different in their own way.
Types of Commercial Blenders
Bar Blenders / Beverage Blenders
Bar Blenders or Beverage Blenders are typically used for cocktails such as Pina Coladas & Margaritas. You just need to determine how often this blender will be used. Bar blenders are built for more solid ingredients and can range from light – heavy duty. If you are constantly using the blender to blend those tasty beverages, then a heavy duty one is the way to go.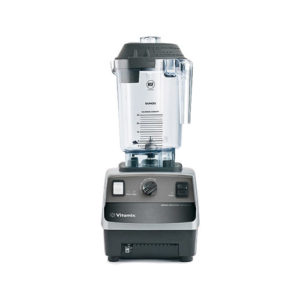 Food Prep Blenders
Food Prep Blenders are tasked with many more functions than the Bar Blenders. This is because the food you are preparing in it can range anywhere from salsa to hard foods such as carrots and greens. Because of this, you need a blender that is going to be able to handle continuous operation without burning out. You will typically see these blenders with a higher horsepower and more options and variable speeds.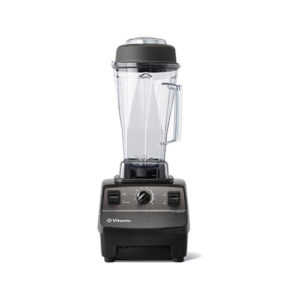 Immersion Blenders
Immersion Blenders are a great tool if you want to feel like you have another set of hands in the kitchen. The great thing about these blenders is that you can blend in any container that is holding your product which also saves a mess in the kitchen. Rather than having to transport your foods from one container to the next, the immersion blender blends everything exactly where you want it to. For on-site preparation or catering events, immersion blenders are great!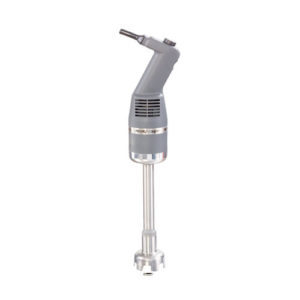 Power
One of the most important factors to consider when you purchase a commercial blender is the horsepower of motor. If you will be serving a high volume of frozen drinks and heavy food and beverage preparation, you'll need a machine that has the power to crush ice and blend heavy food routinely. A blender with a motor smaller than 2 HP can produce lumpy results and potentially burn out from being overworked. But if all you need is a blender to turn out a couple of margaritas you can save some money by going with a smaller, less powerful one.
Contianer Construction
Stainless Steel containers / jars are the most durable and heavy duty blender container. You will not see and nicks or cracks in it and can blend anything from frosty cold beverages to hot and steamy soup. Depending on whether you like to see your food being blended, this may not be the right choice for you.
Glass containers / jars are a lot like the stainless steel containers, you also have the option of blending both hot and cold products. Although these containers can be quite heavy one you have your product blended, some feel as though they have more control seeing the finished product while still in the container.
Polycarbonate (Plastic) are the most popular in the restaurant & bar industry. They are nearly indestructible and light weight which makes them a great asset to any high-volume bar. Unlike the stainless steel and glass container, the polycarbonate is not recommended for hot food/beverage use.
Controls
There are three types of controls,. Using a simple on/off switch is all you'll need to get the job done, but most drink recipes or culinary needs will require a more sophisticated setup that gives you more control.
Paddle Switches & Dials


At very basic, some blenders have a simple paddle switch that turns the equipment on and off. Some blenders also feature a dial that enables the chef to slowly increase and the speed of the blend.

Electronic Display


Perfect for more control over the blending cycle than toggle controls. Electronic displays are also easy-to-read, intuitive, and feature one-touch blending capabilities.

Programmable


Make sure the last blended drink of the night tastes the same as the first! Some blenders come with programmable options or a dial timer to enable automatic shutoffs. Timers are ideal when you want the precision in blending consistent drinks. Times and power levels can be programmed for future use.
Cleaning
Keeping your blender clean is the best way to keep it running. During a shift you'll be regularly rinsing your blender container between blends, but at every of the shift, be sure that you thoroughly clean the blade assembly, jar pad and immersion blender shaft.
Common Commercial Blenders
Motor: 3.8 peak horsepower, 1875 watts, 15 amps.
Recommended daily blends: 200+.
Program cycles: 42 preprogrammed cycles, pulse, manual speed.
Colors: black, cappuccino, pomegranate.

The advance vibration dampening technology provides quality drinks in a more enjoyable atmosphere.
Magnetically secured floating sound enclosure is dramatically easier to clean and disassemble with no screws to damage the enclosure.
6 program buttons with 34 optimized programs for easier, consistent blending.
Advance® container creates faster, smoother pouring and has a longer blade life resulting in time and cost savings along with improved customer experience.
Air management and powerful ≈3 peak output HP motor reduces noise, improves reliability, and reduces down time.

45,000 RPM bare motor speed.
Super-high speed for the smoothest consistencies, with 2-speed selection.
4 reprogrammable beverage stations for perfect results every time.
Factory-set programs for the most popular beverage types.
Easy to create your own customized programs – fully reprogrammable directly on the keyboard! No need for a USB or computer for programming.
Variable speed and time selections for maximum control over consistencies.
LCD display with blue backlight for easy viewing and program selection.
Daily and total drink counter display.
Dual PULSE feature with reprogrammable speed control.
Easy-to-clean electronic membrane keypad.
Sound enclosure included for serious noise reduction.
Raptor 48-oz. STACKABLE BPA-free copolyester container.
High-performance cloverleaf jar design creates a high-power vortex, funneling food directly into the blade.
Unbreakable, dishwasher-safe BPA-free copolyester construction.
High-performance, high-impact stainless steel blade.
Easily user-replaceable for servicing.
Metal-on-metal stainless steel coupling system for durability and reliability – both couplings are user-replaceable.
Easily removable container cover with removable clear cap for adding ingredients and for pressure reduction during hot food blending.
One-piece dishwasher-safe removable jar pad.
Great for use in smoothie shops, coffee shops, restaurants, and bars.

Includes four interchangeable mixing blades.
Detachable shaft.
Lightweight! (2.2 lbs. / 990 grams).
Strong motor (13000 R.P.M.).
Variable speed control.

Motor Unit: Power 1 HP/600W.
Stainless-steel motor unit with air vents in the top section to ensure watertightness.
Ridge on motor housing serves as a rest and pivot on the pan rim for greater user comfort.
Speed 12000 rpm.
New patented "Easy Plug" system making it easier to replace the power cord during after-sales servicing.
Cord winding system for tidy storage and optimum lifespan.
Shaft And Bell: 100% stainless-steel blades, bell and shaft (total length: 14").
Foot with detachable bell and blades (patented system exclusive to Robot-Coupe) for optimum sanitation.
Watertight bell design for optimum lifespan.
Standard Attachment: Wall-mounted power mixer holder.
Tool for attaching and detaching the blades.