27 May, 2016
Buying Guide | Commercial Range
Commercial Range is one of the most important pieces of equipment in your restaurant kitchen, so whether you are sautéing, boiling, broiling, or baking we have a wide selection of commercial ranges to meet all of your cooking needs. As these are available in a variety of configurations and sizes, from countertop to heavy-duty ranges, gas or electric, we will have just what you need.
We offer different types of range, with different options and configurations to choose from.
Restaurant Gas Range
Commercial Gas Range is most popular units due to higher BTU ratings, and its ability to provide more precise and instant temperature regulation. Commercial Gas Range is offered in natural gas and propane. For commercial applications, bear in mind that a venting system will be required.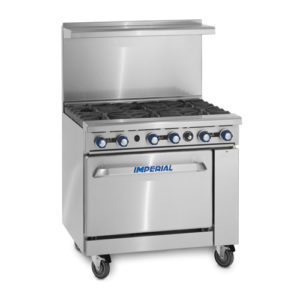 Restaurant Electric Range
Commercial Electric Range is an alternative to gas range in a commercial kitchen with no gas or access to gas. Constructed from durable materials and built to work in a very busy restaurant with high volume application. These units are offered in a different electric configuration suitable for your food service establishment.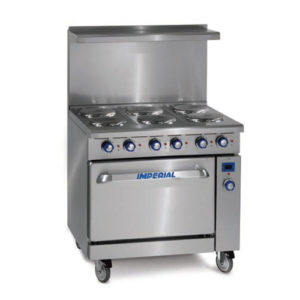 Range Sizes
The most common range widths are 36″, 48″, and 60″, but models are available anywhere from 12″ up to 72″. Choosing the best range size depends on your hood space and your restaurant concept and application.
Range Configuration
Top configuration is based on your application and menu, which mainly consists of the following:
Gas Open Burner
Gas burners are the most common type of cooktop found in commercial kitchens, and can be used to make a variety of menu items by sautéing, boiling, frying, wok frying, stewing, and more. Gas burner cooktops usually come in configurations of 4 or 6 burners.
Hot Top / French Top
A hot top is a flat surface is a meant for cooking with pots and pans. The advantage of the hot top's flat surface is that, in high volume kitchens, pots and pans can be shifted very quickly from burner to burner, and from off the burner to on the burner. French tops provide a softer, more even heat that's great for stockpots. They are also easier to clean
Griddle Top
A griddle cooktop is a flat surface on which food is directly cooked. Griddles are commonly used in restaurants that serve breakfast, or where cooking a lot of menu items like frying rice, grilling burgers and sandwiches, and making omelettes and that cannot be cooked in a pot or pan
Combination Surface
Combination cooktops are popular among small-to-medium sized kitchens where there is limited kitchen space, and where versatility is needed more than volume.  Common configurations include several burners plus a hot top, or a griddle plus burners and they are best for application where you want to make most of the available space under your canopy.
Common Commercial Range Brands
All Stainless Steel front, sides, high shelf & riser.
Heavy gauge welded frame construction.
6" Stainless Steel heavy duty landing ledge.
12" x 12" sectioned cast iron top grates.
32,000 BTU/hr. lift-off open burners.
Porcelainized oven interior.
One chrome plated rack per oven.
100% safety oven pilot.
6" chrome plated steel legs.
Optional Casters available.
AGA and CGA design cer tified and NSF listed.
Sturdy, welded front frame provides stability to the range.
Steel burner rated at 35,000 BTU/hr
Oven dimensions: 26-1/2"W x 22-1/2"D x 13-1/2"H.
Thermostat controls temperature from 150°F to 500°F.

PyroCentric™ 32,000 BTU (9 KW) anti-clogging burner with a 7,000 BTU/hr. (2 KW) low simmer feature.
Heavy-duty cast iron construction.
Anti-clogging pilot shield protects the pilot from grease and debris.
Pots slide easily from section to section and onto the landing ledge.
12″ x 12″ (305 x 305 mm) size for Step-up Range models.
12″ x 13″ (305 x 330 mm) size back grate sized for positioning large stock pots directly over burner.
Linear burner provides even heating throughout the oven.
35,000 BTU/hr (10 KW) oven.
Interior is 26-1/2″ w x 26″ d x 14″ h (673 w x 660 d x 356 h mm).
Porcelainized side, rear, deck and door lining.
100% safety pilot.
Stainless steel front, sides, backguard, shelf, landing ledge and kick plate.
Control knobs are durable cast aluminum with a Valox™ heat protection grip.
6″ (152 mm) heavy duty legs with adjustable feet.

Open storage in lieu of oven, suffix S.
Modular top (Suffix T) with stainless steel low profile backguard & 4″ (102mm) adjustable metal legs.
Ergonomic split cast iron top ring grates.
33,000 Btuh/9.67 kW 2 piece cast iron Starfire- Pro open top burner.
5/8″ (15mm) thick steel griddle plate w/ manual hi/lo valve control, 23″ (584mm) working depth surface, Standard on right, optional on left.
4-1/4″ (108mm) wide grease trough.
18,000 Btuh/5.27 kW cast iron "H" style griddle burner per 12″(305mm) width of griddle.
38,000 Btuh/ 11.13 kW cast iron "H" style oven burner.
Snap action modulating oven thermostat low to 500° F.
Nickel plated oven rack and 3-position removable oven rack guide.
Large porcelain oven interior, fits standard sheet pans in both directions for standard ovens.
Strong, keep-cool oven door handle.
Convection oven w/3 nickel plated oven racks and removable rack guides in lieu of standard oven w/ 1/3HP 120v 60 Hz single phase fan motor; change suffix R to C.

Stainless steel drip tray/grease can.
Stainless steel front, sides, valve cover, and kick plate including backguard and high shelf.
Oven "U" burner rated at 35,000 BTU/hr.
Oven pilot with 100% safety shut down.
Two piece, heavy duty lift off cast iron burner heads rated at 30,000 BTU/hr.
12" x 12" cast iron top grates with pilot shield.
Five position heavy gauge chrome rack guides.
One chrome rack per oven.
Five surface porcelain oven interior.
Stainless steel tubing for burners and pilots.
3/4" thick polished steel griddle plate.
GT Griddle Series – standard with one thermostat per two burners.
SU – step up rear burners.
RG – raised griddle/broiler.

Five sizes (24″ , 36″, 48″, 60″, 72″) and hundreds of combinations including our new 5 burner configuration.
Choice of: 33K BTU patented lifetime non-clog burners, 33K BTU star/saute burners, 40K BTU patented pyromax burners.
Standard or wavy cast iron grates.
Heavy duty spring assist oven door.
Optional electronic ignition on open tops.
Manual gas shut off valve for entire range.
Metal knobs.
On/Off control for convection oven motor.
45,000 BTU standard oven base and 35,000 BTU convection oven base.
High efficiency snap action oven thermostat.
Choice of electric oven base with gas top (Hybrid).
All enameled coved oven with lift-out bottom.
Factory installed regulator.
Standard 22.5″ flue riser with heavy duty shelf.
Optional 5.5″ or 10.5″ flue riser.