18 Jun, 2016
Buying Guide | Commercial Mixer
Commercial Mixer is one of the necessary and essential pieces of equipment in every bakery, pizzeria or restaurant. So, to help better selecting your perfect mixer, there are vital information you need to know such as mixer types, sizes and mixer attachments. Ultimately you want to make sure you make the right decision long term and that, the mixer you choose will help make your business's daily operation a success.
At, Vortex Restaurant Equipment we offer a selection of  quality counter top and floor mixers.
Mixer Types
Planetary Mixer
Planetary Mixers are what you need anytime you are mixing batter or light dough for use in your bakery, catering business and restaurant. This type of mixer features a fixed, non-rotating bowl. The bowl is latched onto the base of the machine and can be raised into the mixing position. A great advantage of this mixer type is the availability of different attachments that can be used when mixing. These mixers come in both countertop and floor model.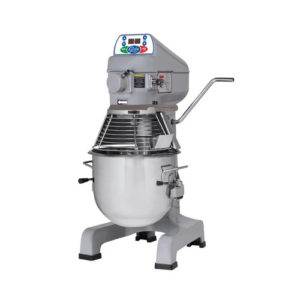 Spiral Mixer 
Spiral Mixers  are the essential piece of equipment if your bakery or pizzeria is preparing any amount of heavy dough, such as artisan bread dough or pizza dough on a daily basis. This mixer features fixed spiral beater, around which the bowl rotates. It is generally more precise than the planetary mixer and doesn't require bowl changes for smaller batches.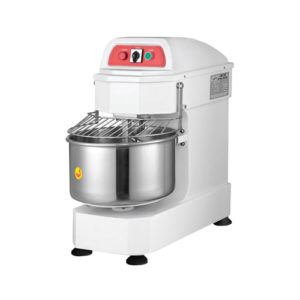 Vertical Cutter Mixer
Vertical Cutter Mixers are industrial-sized versions of a food processor with a large covered mixing bowl, a high horsepower motor and the cutter which allows the processing of large volume of meat, vegetables, and smooth textured mousses, and kneading, chopping, emulsifying and of course, mixing.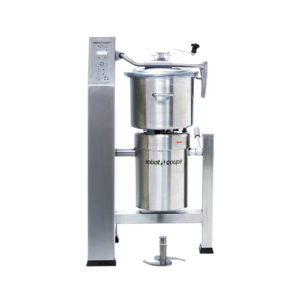 Mixer Size
The most important fact on choosing a mixer is to choose the right size. The size of the mixer can be determined by a size of its bowl and is measured by how many quarts the bowl can hold. Essentially, there are two types of mixers base on the bowl sizes. Countertop mixers range from 5Qt – 20Qt and is used for the smaller volume application while floor mixers can accommodate higher loads range from 30Qt-100QT and is designed to sit on the floor. These mixers are used for a larger application such as pizzerias and large bakeries.
Mixer Speed
All mixers feature different operating speeds which can be known through mixer's operation manual. Mixing products can be much better by following the certain speeds. One of the most important fact about your mixer speed is whether or not you can change the speed during the operation. So before purchasing, make sure you choose the right mixer for your needs.
Horsepower
Larger mixers are made with a higher horsepower motor than smaller models. Normally, the higher the horsepower the better the mixer, which suited to handle thicker, stiffer dough.
Mixer Attachments
Mixing Bowl

– one the main part of every mixer that comes in a variety of sizes. 5Qt-100Qt

Dough Hook

 – is a spiral shaped hood which is normally used in a spiral mixer for making pizza dough or bread dough.

Flat Beater

 – shaped like a paddle and ideal for mixing various batters for cakes, brownies and mashing potatoes and/or other vegetables and ground meat.

Wire Whip

 – powerful whip made of wire strands that are used for whipping up creams, frostings, and marinade.

Pastry Knife

 – is a thin dough hook and perfect for pie and pastry dough.

Bowl Scraper

 – scrapes down the sides of the bowl while the agitator turns. It will save time for cleaning the bowl manually and prevent waste.

Meat Grinder

– is used for the purpose of grinding meat and vegetables.

Grater

 

/ Slicer

– perfect for shredding cheese and slicing vegetables.

Mixer Table

– Good support for countertop and bench mixers.
Mixer Chart
5Qt-7Qt

10Qt
20Qt
30Qt
40Qt
60Qt

80Qt

Bread Dough

4lb

5lb
18lb
45lb
45lb
75lb

170lb

Cake

5lb

10lb
20lb
30lb
40lb
60lb

90lb

Cup Cake

3lb

12lb
20lb
30lb
45lb
60lb

90lb

Egg White

0.25qt

0.5qt
0.75qt
1.5qt
1.75qt
2qt

2qt

Mash Potato

3lb

5lb
12lb
23lb
30lb
40lb

60lb

Mayonnaise

1.5qt

3qt
6qt
12qt
13qt
18qt

30qt

Pasta Dough

N/A

4lb
7lb
8lb
15lb
30lb

65lb

Pie Dough

3lb

5lb
13lb
27lb
35lb
60lb

75lb

Pizza Dough

N/A

3lb
10lb
20lb
32lb
60lb

155lb
Common Commercial Mixer
Simple to use digital control.
9 programmable speed and time settings.
2 speeds for higher efficiency.
Digital display of mixing time.
Unique stainless steel bowl with high center that eliminates dough feeder post.
Prevents dough overheating for longer yeast viability and better gluten development.
Spiral hook designed for maximum efficiency.
]>2 powerful independent heavy duty motors, one for the bowl and one for the hook (except AEF015SP & AEF025SP).
Drain for bowl cleaning.
See through safety bowl.
Safety guard, bowl and mixing tool are stainless steel.
Even the smallest batches can be made in our large spiral mixer (see chart on the back).
Non-slipping belt, provides durability for tough mixes.
Heavy duty frame with lead-free enamel coating for easy cleaning.
Mounted on casters for greater mobility.
Quick locking device to secure mixer in place when mixing.
Motor overload protection.

All mixers come with stainless steel bowl, hook, whip and beater.
All the spare parts : bowl, hook, whip, beater are made of premium stainless steel.
Heavy duty and abrasion resistant transmission design.
Stainless steel tools, painted cast iron base.
Hard wire / 3 phase, volts : 208-240
Amperage: 5, w

atts: 1500

, 

HP: 2

.
Bowl Depth: 15.5" Bowl Diameter: 17.5".

Powerful 1HP custom built motor.
Three fixed speeds.
Gear-driven, high torque transmission.
Heat-treated hardened steel alloy gears and shafts.
Permanently lubricated transmission.
Thermal overload protection.
Front-mounted digital controls with 60 minute timer and last batch recall.
Rigid cast iron body.
NSF approved enamel gray paint.
Industry standard #12 attachment hub.
Safety interlocked bowl guard and bowl lift.
Non-slip rubber feet.
6 foot cord and ground plug.
High-quality stainless steel removable bowl guard with built-in ingredient chute.
Interlocking guard is easy to attach and remove for cleaning.
Dish machine safe.

Safety cut-switch temporarily interrupts power if gears are changed without stopping the mixer.
30 minute timer stops the mixer when timer ends.
60 quart model includes bowl truck for convenient bowl transport.
Meat grinder, vegetable slicer, reducer kits, and other accessories available.
Number 12 hub accommodates Vollrath brand meat grinder and vegetable slicer attachments for flexibility between grinding, slicing, and mixing. For best results, Vollrath attachments are recommended.
Comes standard with: dough hook, wire whisk, flat beater, stainless steel mixing bowl, and safety guard.
6 ft. (1.8 m) cord with plug.