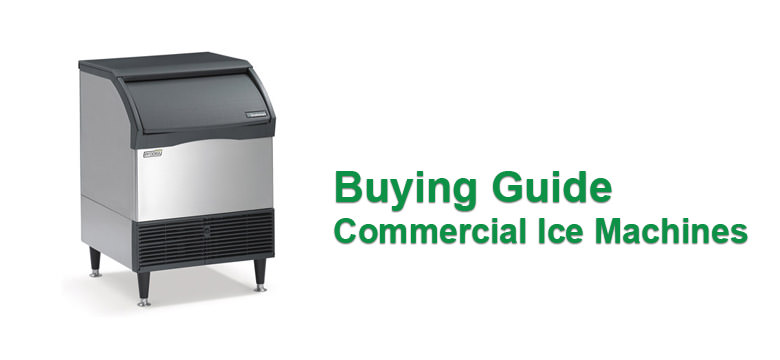 09 Jul, 2016
Buying Guide | Commercial Ice Machine
Commercial Ice Machine is an integral piece of every commercial kitchen and food service industry. With ice machine (ice maker) attached water source and freezing mechanism, these units are capable of making large amounts of ice over a 24-hour period.
To choose a right ice machine, you need to know more about the different types of ice and ice machines.
Ice Machine Configuration
Countertop Ice Dispenser
Countertop ice dispensers with their unique compact design and production of up to 400lb per day, are ideally used in self-service beverage stations, health care facility or high-traffic back line areas.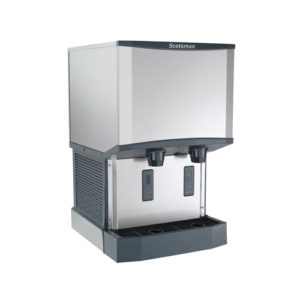 Modular or Ice Machine Head
Modular ice machines come in a variety of sizes and productions. Production capacities vary from 250lb to 2000lb per 24 hours, depending on the ice shape. These units sitting atop of ice bins with different sizes and or soda ice dispensers. Two most common type of modular ice machines is a modular ice cuber and an ice flaker.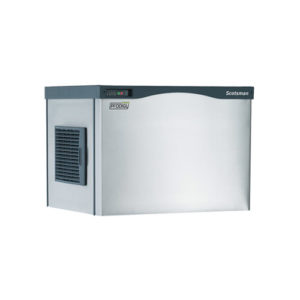 Undercounter Ice Machine
Undercounter ice machines (ice maker) are the most popular ice machines due to their size and average production capacities in small to medium size restaurant and commercial kitchen. These units fit under most 40″ high counters. Due to their size, you can expect a lower yield in ice production of not more than 350 lbs of ice per day.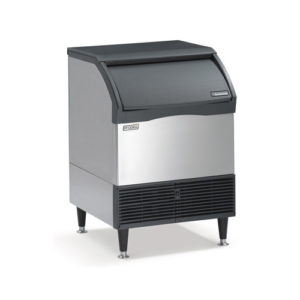 Ice Bin
Ice bin comes in different size and shape, accommodating your modular ice machine.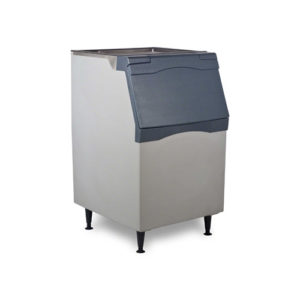 Ice Types
Cube Ice
Melts slow, cool drink faster and less consumption due to its size.
Full cube (Dice), half cube and the small cube.
Ideally, use in most restaurants and bars.
Ice cubes produce by ice cube machine.
Flake Ice
Cool rapidly and easily mold to any shape.
Soft and easy to chew.
Ideally, use for blend drinks and to display seafood and meat.
Ice flakes produce by ice flake machine.
Nugget Ice
Softer than the ice cube and denser than ice flake.
Soft and easy to chew.
Ideally, use for blend drinks and health care industry.
Ice Machine Compressors
Air Cool
Air cool ice machines are cost effective and less energy consuming machines. Energy star rated and easy to use ice machine uses a cool air and circulates over the condenser to draw heat from refrigeration lines. Because of the air cool condensing system, air-cooled machines are noisy and can raise the temperature in the room.
Water Cool
Water cool ice machines are ideal for a situation where the room temperature is more than 80F and where the air contains a high level of contaminants, like grease. These machines require two different water lines: one to feed the ice-making compartment and one to run along the condenser.
Common Commercial Ice Machine
Stainless steel 304 interior and exterior – Never rusts or corrodes.
Stainless steel evaporator – Greatly reduces mineral build-up for increased pump and compressor operation. Produces pure quality clear compact crystalline hard ice cubes.
Fixed and non-rotating evaporators – Ensures longevity.
Individual ice cubes – Longer lasting, better displacement, maximizes production and reduces service costs.
Ice cuber – Water sprays up into chilled cavities, produces a pyramid shape cube, chills without diluting and forms on the evaporator and comes off one by one into the storage bin. Great for large scale ice demands with limited time spans.
Thermostat bin – Ice production cycle can be increased or decreased.
Space saving units – Fits and operates in limited spaces. Bin doors slid up and tuck under ice machine top cover. All units are front breathing, no need for side and back clearance.
Water pump not immersed in water – Less complications with longer lasting results.
Fire sensor – Detects intense heat and shuts down machine's electrical components.
Easy accessibility – Electro-mechanical units: (2) thermostats (bin & evaporator), and timer. Replacing parts; easy, quick and affordable. No circuit boards/electronics.
Removable cleanable air filters – Reducing maintenance costs and ensuring a longer lasting machine.
Large diameter metal sprayers – Free water flow, reduces the effect of hard waters.
All Models – Refrigerant: R404A, cooling system: Air.
Competitively priced – Energy efficient, certification: ETL verified, NSF.

Air-cooled, self-contained, built in storage bin.

Produces crescent ice.
Durable stainless steel exterior, opening is ADA compliant.
Ice maker with built in storage.
EverCheck™ alert system.
CycleSaver™ design.
R-404a refrigerant.
Ice bin opening is ADA compliant.
Ambient temperature range: 45 – 100°F.
Water temperature range: 45 – 90°F.
Water pressure: 10 – 113psig.
Voltage range: 104 – 127V.
ENERGY STAR qualified.

Industry leading performance.
Interactive, easy-to-use keypad.
Delay ice production for 4, 12, or 24 hours.
Patented easy clean technology.
Tool-free foodzone.
Corrosion & finger print resistant composite exterior.
Modular design for simple service.
Available lumin ice™ growth inhibitor.

Prodigy® under counter cubers use

significantly less energy and water

than other cube ice machines, exceeding federal energy efficiency regulations.
Auto alert™ control panel can communicate operating status and signal when it's time to descale, sanitize, and more-making upkeep easier.
The patented w

ater sense adaptive purge control

delivers maximum reliability by reducing scale buildup for a longer time between cleanings.
All external panel components are crafted for

optimal aesthetic appeal

through superior fit and finish.
Preventative maintenance is simpler than ever with easily-removed door, top panel and storage bin allowing clear access to all internal components and a diagnostic code display insuring the right fix the first time.
Front removable air filter.