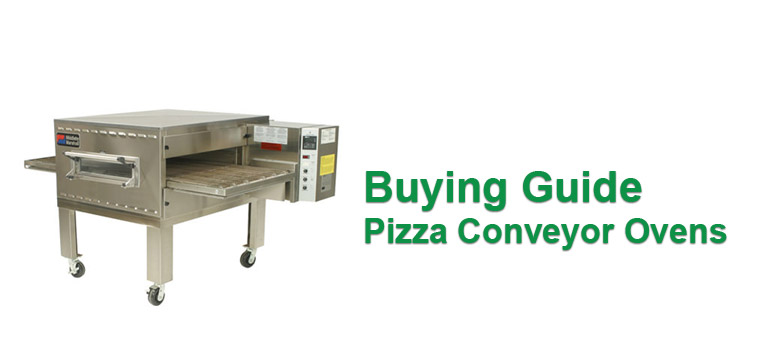 06 Aug, 2017
Buying Guide | Pizza Conveyor Oven
Conveyor Oven is a great site for restaurants where the efficiency has priority. It cooks similar dishes consistently with speed, simplicity and high volume. Pizza is the most common type of items uses conveyor oven. That is why sometimes we call these ovens, Pizza Conveyor Oven. The other most common food that uses this oven is sandwich.
However, Conveyor Oven is suitable for various of food with a simple operation and perfect result.
Gas or Electric
Pizza Conveyor Oven is ideal for high-volume pizzerias in search of a steady oven not requiring constant attention. Conveyor pizza ovens use a conveyor belt to cook food as it moves through the oven and like all other Commercial Ovens, conveyor ovens consist of two different ovens. Electric Conveyor Oven and Gas Conveyor Oven
Type of Conveyor Oven
Impingement Cooking or Forced Air
Force impingement technology is the most common method applied in conveyor ovens. The fans blow hot air, which is heated by gas or electric burners and hot air is able to through perforations to create high-velocity jets to blow cold air surrounding food away. This method results in rapid heat transfer and nice texture.
Radiant
The heating elements are located above and below the belts. Both air inside the oven and interior walls are heated at the same time to create radiant heat.
Infrared
Ceramic elements penetrate organic material resulting molecules' movement which generates the friction and energy as heat. This method provides a faster cooking time.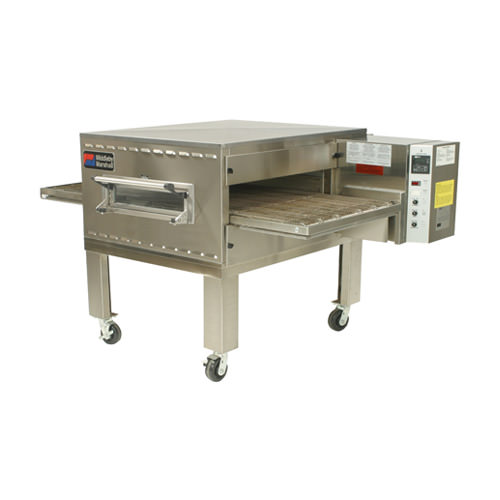 Control Opinion
There are several control opinions from simple mechanical controls consisting of a basic dial to sophisticated electronic. The electronic elements provide a programable setting that is able to store times, speed and temperature in oven memory. High technique model also comes with easy-to-read LCD displays and touch pad control. Users could make the decision based on their menu and traffic.
Belt
Conveyor Ovens are sorted by their belt dimension. When purchasing, customers need to pay attention to length, which determines the volume of throughout that can be achieved within in unit time. 40 to 50 inches belt are best sellers since they are large enough as a primary oven for any busy pizza store. Smaller places could choose ovens with 31-36 inches belts to save some space with a reasonable output. Places require especially high production should consider length over 78 inches.
Belt width is another key factor. The most popular size is 16 inches, which means the maximum width of the food the oven can accommodate.  It is not hard to find large units with nearly doubled width. With a wider belt, the output is doubled by placing two items side-by-side.
Besides the common single-piece, there is an option with split-belt or dual belt allowing user simultaneously cook different items. Two belts could be set at different speeds, therefore the item placed on the slower belt could be baked longer than the one on the faster belt.  Most of the units are split by half, however, for the place offer both huge amounts of large and small items, the 30/70 will be a better choice.
Advantage
The efficiency and easy operation is the most obvious advantage which is able to less labor pool. After setting speed and temperature, the user could place items on the input end of conveyor end. The belt will carry foods through the baking chamber and to the other end with the landing platform. Hence, conveyors are able to provide a consistent quality than another oven and it is nearly impossible to overbake items since food is perfectly timed by settled speed. Moreover, forced air cooking forms a membrane around food not only to speed up the cooking time but also to protect them from drying out.
Common Conveyor Oven
Patented EMS energy management system reduces energy consumption and increases cooking efficiency.
28" (711mm) long cooking chamber with 18"(457.2mm) belt.
50"(1270mm) long, 40-3/4"(1035mm) deep, and 21-3/4"(552.4mm) high overall dimensions.
Furnished with 4"(101.6mm) legs.
Stackable up to three high.
Microprocessor-controlled bake time/conveyor speed.
Stainless steel front, sides, top and interior.
Reversible conveyor direction.
6"(152.4mm) extension tray.
12"(304.8mm) extension tray.
15"(381mm) wide front window.

The XLT-1832-TS3 quiet fire is available in three configurations, the single, the double, and the triple stack models.
The optional front sandwich door is provided to load or unload product for different cook times.
Both exterior and interior exposed surfaces are made of easy cleaning stainless steel.
XLT™ ovens are manufactured with pride in the USA under stringent quality standards.
Replacement parts are readily available through the XLT fast parts program at a fraction of the cost of our competitors.
The large removable front panel allows for easy access to oven interior, making cleaning much easier than our competitors' ovens of the same size.
All XLT™ ovens are 100% factory tested with a minimum 4-hour burn-in time.
The conveyors can be set up to move either right-to-left or left-to-right.

18″ (46cm) conveyor belt.
Stainless steel construction.
Front mount controls for easy view and access.
Electronic temperature control with digital read-out.
Variable digital speed control on conveyor belt.
Cook time from 1 – 20 minutes.
Reversible conveyor belt direction.
Thermally insulated for energy efficiency.
High velocity precision targeted air flow distribution panels for consistant repeatable baking results.
Stackable (up to 3 units high).
Super efficient electric tubular elements.
Removable front panel, crumb tray, top and bottom air flow distribution panels for easy cleaning.
4″ adjustable stainless steel legs.