03 Sep, 2017
Buying Guide | Refrigerated Display Case
Refrigerated Display Case is a great solution for coffee shop, convenience store and restaurants where display is important and this is one way to increase a sales. From drop in cases that will free up floor space in your market, to counter top to floor models, there are Display Refrigeration to best suit your needs.
Types of Display Cases
Bakery Case
Bakery Case comes with both refrigeration and non-refrigeration model. The refrigeration cases are able to hold the temperature around the same with deli case, but with less moist. Normally, users have complete control of humidity. Refrigerated bakery Cases are suitable for the bakery goods that may easily deteriorate if held at room temperature, such as cake, pie, confection. Non-refrigerated or dry bakery cases are tended to house the food do not need to be stored in moist climates. These items generally are baked daily and need a dry room temperature, such as bread and bagels.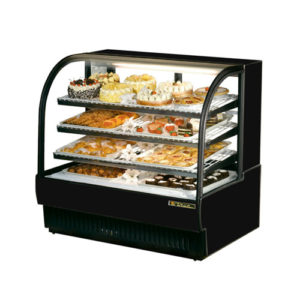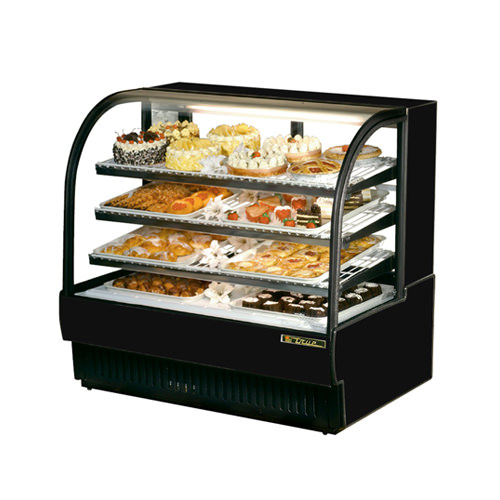 Deli Case
Deli Cases are keeping the temperature around 40 F to holding the cold temperature foods and extending their shelf life. This temperature also allows cheese and meat ready to service by keeping them from freezing. The retaining moisture portent the product from dry out and keep the foods fresh. Deli case contains multiple shelves of display products; however, the single shelf is available using for display pasta and salad.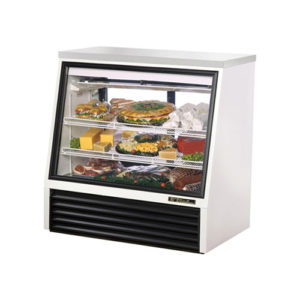 Countertop Case
It is obvious that Countertop Case is meant to be placed on the counter top. Many businesses rest them nearby cashier. Unlike sushi case, this type generally has two or three levels. Store with space limitation will satisfy with this to provide quick grab items, such as packed food and beverage. However, it could be used as normal bakery case as well.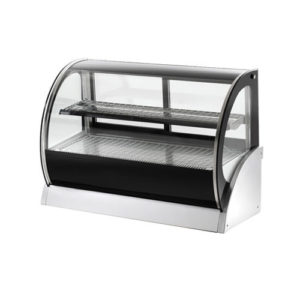 Meat & Seafood Case
Unlike two types above, Meat Case generally is a single layer that provides more room to dip in. The temperature is set to hold raw meat, fish, and poultry perfect fresh without allowing them to freeze. The unwrapped products are normally placed in glass case units, which could insulate the extra environment. There are open-air models designed for the wrapped meat products as well. Considering the temperature difference between external and internal, frost inhibitors are widely used in this type to prevent the glass from frosting. Moreover, since the ice involves, cases will have trays to catch melting water.
Sushi Case
Sushi Case aims to offer customers a beautiful view of the fresh ingredient. Most of them are intended to rest on counter or bar, therefore, it comes with single shelf and less tall than normal counter display cases. Even both refrigerated and ono-refrigerated model is available, traditionally non-refrigerated case are still popular.

Size
There are many sizes available on the market from the small countertop to 96'' floor style. Before purchasing, users had better have an idea about where the unit is going to placed and how many spaces can be provided. Since the display is one of the key function for this item, users should keep the demand for food in mind as well. Either empty or crowdy gives a good view to customers.
Design
Shape of Glass
There are two styles of display cases, one is straight glass case, other is curved glass case. Straight cases slant slight about 12 degrees, to lessen the reflection from overhead lighting. Curved glass units are providing enhanced top visibility of product inside because of the glass curves back than stopping.
Light
Display cased are nearly all illuminated, internal lighting is standard-setting, which improves the outlook for food. However, each manufacture has their own design. Some case has colored bulbs to make items look their finest, especially for red meat. the units end with a panel and reflective allow case appear complete and large.
Shelving
Shelving is able to increase the capacity in an impressive way. Since most of the items displayed are not tall. Users could expand the volume by using an extra layer. However, overfull shelving block customer seeing through the case and against product best present.
Method of Refrigeration
Display cases generally come with tow kind of refrigerated — require air or gravity coil. The decision will be based on the type of item users intend to display. For the required Air Cold, fans distribute cool air through the cabinet to keep items fresh and cold. Since the air movement will blow away the moisture of item displayed, this model works better on packaged and bakeshop products.
Gravity Coil System has a refrigerator coil system on the top of the cabinet that allows cool air drop down over food, then reduce the air flowing. Therefore, it is a better choice for raw meat, seafood and salad. Moreover, gravity coil cases save more energy cost than required air.
Other Features
Temperature
Temperature range is the key factor to make a current choice. Knowing what you will be displaying and the environment surrounded it will help you choose a suitable case with best temperature range. For example, a bakery in a warm climate request refrigerated function bakery cases.
Humidity
Different items have their own temper for humidity. Some of them require wetter, other may not. Fortunately, it is easy to find cases with adjustable humidity, including refrigerated and non-refrigerated. That change what display holds frequently may more need a case with adjustable function.
Common Refrigerated Display Case
2 rear sliding glass doors & 3 levels of display.
2 levels with fluorescent illumination.
Reinforced steel base.
Heavy duty condensing unit for R-134a.
Reflective polarized film on rear glass doors to avoid visibility of back area & enhance exhibition area.
Polyurethane insulation with cyclopenthane as blowing agent.

Construction – 18 gauge painted steel base.
Stainless steel on top and sides.
Three adjustable white wire shelves.
Tempered thermopane tilt-out front glass.
Tempered thermopane glass ends.
Fluorescent top light and shelf light with T-8 bulbs.
Removable shelf lights, shelf supports and shelves.
Thermometer.
Black trim.
Removable white display deck.
Light switch.
Equipped with leveling legs to correct for unlevel flooring situations.
Doors – Removable sliding rear doors with thermopane glass.
Refrigeration – Self-contained, hermetic condensing unit.
Rear air intake and discharge.
Refrigerant: R-134a.
Adjustable temperature control.
Condensate evaporator.
Off cycle defrost.
No minimum clearance required on cabinet sides but front, back and top must be left open for customer and operator access.
Temperature range: 38° to 40°F (3° to 4°C).

Double Pane Panoramic Front Glass – You make a perfect product; we help you exhibit it better.
Double pane panoramic front glass provides the perfect display for your products with a panoramic build.
Reduces heat transferring into the inside of the refrigerated deli merchandiser.
Internal LED Lighting – The Torrey refrigerated deli merchandiser comes with LED lighting to provide a brighter display of your product while reducing energy consumption.
Stainless Steel Floor – The Stainless Steel bottom floor on the inside of the deli merchandiser furnishes a smooth easy to clean surface.
While also providing additional display space if needed.
Digital Controller – Our digital controller allows you to set the best suited temperature for your product.
Gravity Coil Refrigeration – The gravity coil system boasts a refrigeration coil at the top of the cabinet that allows the cool air to "drop" down over the food.
This effect prevents the product stored inside to dry out, protecting all of its original properties.

Design – True's refrigerated bakery case combines efficient, high volume merchandising and exceptional refrigeration with an elegant curved glass front for sophisticated presentation of high end desserts and pastries.
Designed to provide an attractive companion to our "dry" display case.
Refrigeration  System – Factory engineered, self-contained, capillary tube system using environmentally friendly (CFC free) 134A refrigerant.
Extra large evaporator coil balanced with higher horsepower compressor and large condenser maintains 38°F to 40°F (3.3°C to 4.4°C), ideally suited for bakery products.
Forced-air refrigeration system; sealed, cast iron, self-lubricating evaporator fan motor(s) and larger fan blades give True refrigerated bakery cases a more efficient low velocity, high volume airflow design.
Condensing unit located behind removable panel in back of unit; slides out for easy cleaning and maintenance.
Cabinet Construction – Exterior – white laminate front and side panels. Color options available at no charge.
All laminate (and stainless option) ships separately from unit and is field installed. Stainless steel top. Black front and rear grills and trim. Template kit available at no charge for field customization of laminate.
Interior – NSF approved white aluminum sides and top; high impact plastic floor with coved corners.
Insulation – entire cabinet structure is foamed-inplace using Ecomate. A high density, polyurethane insulation that has zero ozone depletion potential (ODP) and zero global warming potential (GWP).
Welded, heavy duty steel frame rail, black powder coated for corrosion protection.
Frame rail fitted with leg levelers.
Curved Front Display Glass – Insulated, double pane curved glass front and side panels provide extra large viewing area to maximize bakery product presentation. Exterior pane is tempered for safety.
Front glass tilts forward for easy cleaning.
Rear Doors – "Low-E", double pane thermal glass door assemblies with extruded aluminum frames. The latest in energy efficient technology.
Each door fitted with 12″ (305 mm) long moulded plastic handle.
Self closing doors. Positive seal, torsion type closure system.
Magnetic door gaskets of one piece construction, removable without tools for ease of cleaning.
Shelving – Three (3) adjustable, lighted, heavy duty PVC coated wire shelves 71 3/8″L x 221/2″D (1813 mm x 572 mm). Shelving system is cantilevered and angle can be adjusted to maximize presentation.
Each shelf supports a maximum weight of 150 lbs. (69 kg).
Pan Capacity – Cabinet holds sixteen (16) 18″L x 26″D (458 mm x 661 mm) display pans (4 per level). Pans supplied by others.
Lighting – Cabinet equipped with four (4) light sources for maximum product display; three (3) shelf mounted and one (1) cabinet mounted. Fluorescent lamps are low UV emitting to enhance product appearance and increase shelf life.
Safety shielded lighting tubes assure longer, brighter, shadow-free product illumination.
Model Feature – Evaporator is epoxy coated to eliminate the potential of corrosion.
Recessed exterior light switch and thermostat control.
NSF-7 compliant for open food product.
Electrical – Unit completely pre-wired at factory and ready for final connection to a 115/60/1 phase, 20 amp dedicated outlet. Cord and plug set included.

Refrigerator maintains 35°F ~ 41°F for the best in food preservation.
Ambient temperature range 50°F ~ 80°F, saturation temperature 39°F.
Beautifully curved, angled down top front glass.
Equipped NSF approved thermometer.
1" diameter drain hole with plastic cover.
Slightly tilted bottom for better drainage.
Larger interior for optimized display effect.
304 stainless steel solid food plates.
Oversized and balanced CFC free R-134A refrigeration system.
Tempered glass doors with durable plastic door handles at chef side.
Exterior body is beautifully made from unique and stylish 304 stainless steel material side mount compressor makes it easy to be serviced without being moved.
Elegant contemporary.
Euro design enhances any store application.
Easy cleaning and excellent durability.
Condenser locates on left or right from the front view.
Drain hole locates on left from the chef side.
Recommended operating conditions: SAKURA models are designed to operate in environments where temperature & humidity do not exceed 75°F and 55% relative humidity.

Inside lighting strips located both at the top of the cabinet and underneath the upper shelf create optimum food display throughout cabinet.
Dual fans circulate air throughout unit to ensure even temperature control.
Triple-glazed front glass gives added strength and insulation.
Drop-in and curved cabinets have two shelves. The cubed cabinet has 3 shelves.
Lift-and-remove rear sliding doors for easy display changes and end of day cleaning.
Digitally controlled thermostat for precise and consistent settings.
36° – 46° F (2° to 21° C) temperature range.
Drop-in models can also be used as freestanding counter top units.
6 ft. (1.8 m) 120v cord and plug.