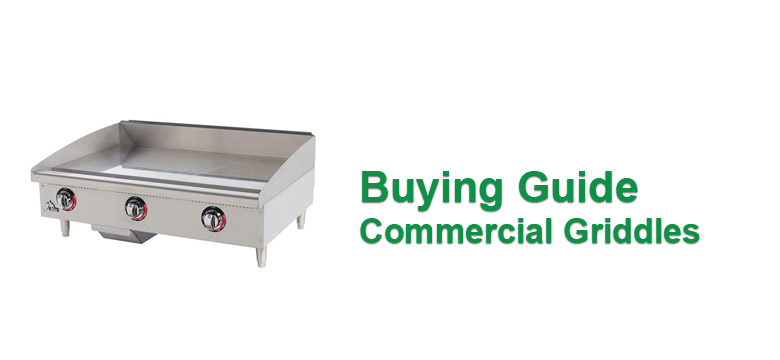 24 Sep, 2017
Buying Guide | Commercial Griddle
Commercial Griddle offers a perfect result on cooking burgers, pancakes, eggs and any type of food need the frying, simmering and searing. Commercial griddles can be an affordable efficient way to add productive cooking and a large menu to any establishment.
Style of Griddles
Counter-top Griddle
As other counter-top products, this unit is a perfect solution for users with limited space. Counter-top griddle provides a flexibility of being placed on any counters or tables where have an energy source. They are typically more affordable than drop-in griddles while offering necessary power.
Drop-in Griddle
The drop-in griddles are for those who have large kitchen and require a built-in version. Because flat surface requires cut-out section on the counter, the installation process is much more complicated than the counter-top griddle.
Teppanyaki Griddle
Teppanyaki griddles are a subset of the drop-in griddle. The difference is this style only has heating elements in the center than under entire plate. This means chef could cook food in the center and move them to the edges have lower temperature capable of keeping items warm till servicing. This type is often found in Japanese restaurants.
Combination with Range
The griddle could come as a range accessory. It could be attached to existing range, however, many manufacturers produce the model with the griddle in place of the burners.
Type of Griddles
As many cooking equipment, griddles have both electric and gas options. In most of the areas, gas cost less in energy bill than hydro.  It means with high-powered heat elements, gas items end up cost less to their electric equivalents.
Gas Griddle
Gas griddles are good for the places where have gas connections and griddles play primary roles in kitchens. However, electric items save more on upfront because of their simplest installation process—plug-in. there is not a right answer for the best fuel type. In fact, the best option is resulted by your kitchen on-site circumstance and menu demands. The amount of heat that gas griddle generated measured by BTUs. Higher BTU means powerful cooking and shorter recovery time. Economy griddles may have burners produce about 20,000 BTUs, while medium and high duty is able to provide power 30,000 BTUs per burner.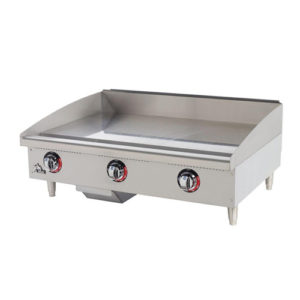 Electric Griddle
Electric griddles have 3 voltage options available. If you run a café shop or a food track, 120v can meet your need very well. On the contrary, 240-volt unit may be a better choice for a large store and for the kitchen has 3 phases, a 208-volt griddle could be brought to the mind. Comparing with gas units, electric griddles are sometimes perceived as safer and require lower long-term operating cost. Nowadays, the induction units are available on the market to provide a trade-off between higher price and energy efficiency.

Control
Control style is a key factor to classify commercial griddle into manual and thermostatic griddles.
Manual Griddle
Manual griddles give users control over the intensity from low to high. A non-thermostatic griddle is good for a place continuously cook food in the same way or has singular food type.
Thermostatic Griddle
Thermostatic griddles, on the other hand, allows a precise control of the temperature of griddle's cooking surface. The temperature is usually between 150-450 degree Fahrenheit, which expands menu by being able to adjust the temperature to meet the variety of requiring from different dishes in a rapid way, There are three main types of thermostatic controls.
Modulating thermostatic controls keeps temperature accurate to within 30 or 40 degrees Fahrenheit of the set temperature.
Snap-action keeps the surface 15 degrees Fahrenheit of their set temperature.
Solid state thermostatic give the best accuracy which has only 5 degrees Fahrenheit between setting.
Plate
Thickness
Plate thickness determines the quality of commercial griddle in two ways. Firstly, thicker plates allow repeatedly heating up and cooling down without warping or showing signs of wear and tear.  Moreover, thicker plates heat more evenly and provide a shorter recovery time after cold food added.  Normally commercial griddle plate comes in ½ inch, 2/4 inch and 1 inch. The breakfast orientated places mostly use a thinner plate griddle. However, a thicker plate performance better in heavy-duty and lavish menus.
Coding
All of the commercial griddles are made of stainless steel with some given top layer of chrome. Because of mom-porous, chrome results less likely to transfer flavor of surfaces to foods. It also prevents plates from sticking and eliminates the demand of cooking oil.
Other Features
Size
Size is another crucial consideration should be brought in before purchasing. The griddle plate depths range from 20 to 30 inches. Flat-top griddles are normally sized in width increments of 12 inches and range from 24 to 72 inches wide.  It is important to think how many items should be on griddles at one time to keep the kitchen running smoothly. The availability of floor space eliminates the options as well.
Cost
You could find commercial griddles from few hundreds to couple thousands.  Besides the size, extra cost has been justified by additional features. Drop-in griddles are much more expensive but it fits into the kitchen perfectly.  Chrome finishing adds some price but allowing an easier clean and won't transfer any flavor from the surface to food. There is higher pay for the thicker plate, which provides durability and efficiency. Of course, thermostatic controls will often cost more but gives a precise temperature control.
Common Commercial Griddle
Durable stainless steel structure.
Corrosion-resistant and easy to clean.
Simple and reasonable structure, easy to manipulate and maintain.
Highly efficient stainless steel burner.
3/4 " thick griddle plate.
Independent manual controls to save the energy.
Easily accessible grease pan for easy clean up.
Adjustable stainless steel legs included.
Available in natural gas + propane.

Stainless steel construction and finish.
Polished steel cooking surface.
Manually controlled, Independent cooking zones.
Large, robust dial controls.
Stainless steel burners.
Burner safety valves.
Removable waste tray.
Heavy duty adjustable feet.
3/4″ rear gas connection.

Highly polished 1" thick polished steel plate for superior heat distribution, fast recovery and energy efficient operation.
Manual control with standing pilot for the budget-minded operator and experienced chefs who prefer the "feel" of a manual control.
Available in 15″, 24″, 36″ and 48″ widths to meet your space and volume requirements.
Longer lasting, heavy-duty metal knobs.
Double wall construction and enclosed bottom helps reduce heat loss. Cool-to-the-touch stainless steel bull nose front provides knob protection and comfortable work zone.
Custom designed 28,300 BTU aluminized steel U shaped burner every 12" of cooking surface provide even heat distribution. Heavy-duty body construction with stainless steel front, bull nose and 4-1/2" high tapered splash guard.
Spatula wide 3-1/4″ front grease trough and grease chute for easier cleaning.
Large 4-1/2 quart stainless steel grease drawer.
Gas convertible in the field with conversion kit supplied. Units are shipped Natural Gas.
Heavy-duty 4″ adjustable legs to fit your countertop line-up requirements.

Shipped set up for natural gas, includes kit for conversion to propane.
Includes regulator and gas valve.
28,000 BTU custom stainless steel U-shaped burners for superior versatility, even heat distribution and efficient operation.
12″ (30.5 cm) wide heating zone per control (18″ griddle has one burner).
Stainless aluminized steel with fully-welded construction for durability and long life.
Polished ." (1.09 cm) thick steel griddle plate for even heat distribution and retention.
Welded griddle plate seams eliminate grease and dirt traps.
All metal knobs and knob guards protect gas valves from damage and won't break or crack and are guaranteed for life.
3/4″ NPT gas inlet.
Heavy-duty adjustable legs.
Thermostatically controlled griddles maintain user settings to ensure consistent surface temperature.