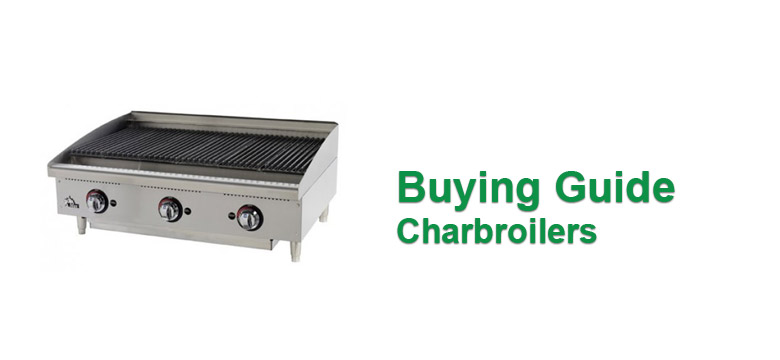 04 Sep, 2016
Buying Guide | Charbroiler
Charbroiler is one of the restaurant equipment that is used to cook variety of meats and seafoods such as juicy burgers, steaks and a fabulous chicken breasts. Commercial Charbroilers, Restaurant Charbroilers and Char Grills offer a home-cooked taste, and professional appearance with both the speed and convenience that is needed in a restaurant.
Charbroilers can be divided into Electric Charbroiler and Gas Charbroiler.
Types of Charbroilers:
Countertop Charbroiler
Countertop Charbroilers are the most common charbroilers that are being used in every restaurant and commercial kitchen. As it name implies they are built to sit on the equipment stand or chef base refrigerator in a restaurant. The electric models are not very common and you can choose between Radiant Charbroilers and Lava Rock Charbroilers.
Outdoor Charbroiler
Outdoor Charbroilers or Outdoor Chargrills are the heavy duty version of home BBQ machines. They normally use in catering events, hotels and gulf courses. They are normally free standing and come with stand, side burners for other prep and lids.
Charbroiler Sizes:
Charbroiler capacity and sizes can be varied. The grid on a 15" x 22" Charbroiler can cook up to 24 burgers per load or 340 per hour. A 16" x 20" grid will produce about 380 per hour and a 20" x 32" model can double that output. The grates on gas-powered units generally measure from 24" to 72". Gas charbroilers tend to be 6" to 12" taller than electric models. Burners are positioned one for every 6" to 12" of grate area.
Radiant Charbroiler vs Lava Rock Charbroiler:
One of the main differences between all charboilers are how their heats transfer. This is a most common question for every one who wants to buy a charbroiler for the first time.
Lava Rock Charbroilers
Lava Rock Charbroilers use a bed of Lava Rock positioned above the burners to catch the heat and radiate it towards the meat above. Because the rock is porous, it catches and holds drippings, which enhances the delicious smells by creating more flavorful smoke. This level of flame and smoke looks great in display cooking applications, and most chefs prefer this style and believe it adds more flavor to the food. These models require more maintenance and cleaning compared to a radiant charbroiler.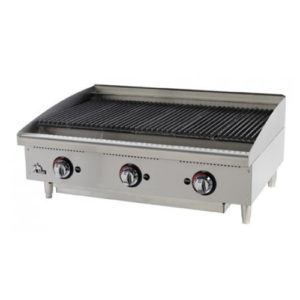 Radiant Charbroilers
Radiant Charbroilers burner is positioned under a cast metal radiant from which the heat is radiated towards the food being grilled. Some new models uses staineless instead of cast metal which gives better radiation compare to the cast iron. Sub-radiant heating offered with some broiler units reduces gas use and grease fires, while improving the evenness of top grid temperatures. Radiant Charbroilers are much easier to clean than a comparable lava rock model.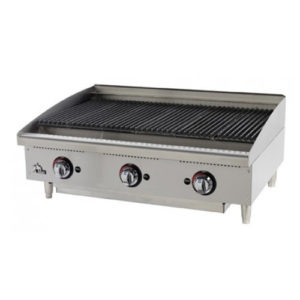 Cleaning and Care:
Like many other restaurant equipment require routine cleaning and maintenance. This will help in long lasting and result in better cooking performance. When using the charbroiler for the first time is important to let it on before cooking on it since they all have some sort of protective coating on the grates that you'll need to burn off. Every day after finishing to work with you charbroiler, you need to first empty the grease tray and using the Wire Brush to remove stuck-on grease and carbon buildup.
Common Commercial Charbroiler
All stainless steel front, sides and top.
50/50 double door, swings open 180°.
Stainless steel, air-tight, door gaskets.
75,000 BTU/hr. total heat output per oven on standard depth models.
90,000 BTU/hr. total heat output per oven on bakery depth models.
2 KW 208/240 Volt oven for both the standard (MSDE) and the bakery depth (ME) units.
3/4" gas connection.
1/2 horsepower / two speed convection fan motor for high production and baking.
Cavity width will accommodate full size sheet pan side to side on standard depth models, also front to back bakery depth models.
5 chrome racks with 12 position chrome rack guides.
Pull-out control panel for easy access to control system.

Stainless steel construction and finish.
Heavy duty cast iron grilling grates.
Manually controlled, independent cooking zones.
Large, robust dial controls.
Stainless steel U shape burner.
Burner safety valves.
Removable full width waste tray.
Heavy duty adjustable feet.
3/4″ rear gas connection.

Star-Max® radiant gas char-broilers are designed for the most demanding foodservice applications. Star-Max char-broilers deliver maximum performance and provide years of operation.
Available in 15″, 24″, 36″ and 48″ widths to fit many foodservice operation's space requirements.
Designed with high performance 40,000 BTU H-style cast iron burners every 12" of width. Cast iron burners provide excellent broiling performance, better heat distribution and maximum sectional control.
NEW  longer lasting, heavy-duty metal knobs.
Heavy-duty cast iron grates stand up to constant use.
All stainless steel construction and front panel for long lasting attractive appearance and ease of cleaning.
Double wall construction and enclosed bottom helps reduce heat loss.
Heavy-duty cast iron grates can be individually positioned (flat or slanted) to accommodate a variety of broiling needs. Plus, our grates are reversible with a thin side for searing and a thick side for more delicate menu items.
NEW heavy gauge stainless steel radiants contoured for even heat distribution.
Large capacity stainless steel water pan for easy clean up.
Stainless steel, 2-3/4" high tapered splash guard provides maximum protection against grease and spills.
Cool-to-the-touch stainless steel bull nose front provides knob protection and comfortable work zone.
Units come with LP orifices for easy conversion. All units come with a convertible regulator to switch from natural gas to LP gas. Units are shipped Natural Gas.
Heavy-duty 4 " adjustable legs to match the height of other Star-Max equipment in your line.

Ships complete with kits for both radiant and lava rock set up.
Shipped set up for natural gas — includes kit with regulator for field conversion to propane.
Stainless and aluminized steel, fully-welded construction to eliminate grease and dirt traps.
Superior stainless steel burner design allows for better heat distribution and faster recovery.
Burners placed every 6″ for optimum heat distribution and control. 12″ unit has one burner.
Heavy-duty gas valves ensure long life.
Heavy-duty adjustable legs.
Cool-to-touch bull-nose design protects from burns.
All metal knobs protect gas valves from damage, won't break or crack and are guaranteed for life.
NPT gas inlet.